Study Abroad to Cuba | What does Cuba have in store for us?
There has been a lot of news about Cuba. There is also a lot of confusion as to who can travel to Cuba and what a legal trip to Cuba entails. The rules all recently changed on January 15, 2015 says Paul Bardwil, president of Global Educational Facilitation who is the only legal tour service operator in the Greater Sacramento Area and has been facilitating legal travel to Cuba since 1998.
The real attention to Cuba right now are the legal trips that schools can make as well as individuals under the people to people right to travel to Cuba. Universities and colleges can travel to Cuba if they are offering a course that is offered at their institution and it is offered for credit with a letter on letterhead from the school that shows a brief course description and proof of the course number as well as the professor of record.
With respect to high schools and secondary schools, academic programs students must participate in a structured educational program offered by a secondary school or other academic institution and led by a teacher or other secondary school official. This includes participation by a reasonable number of adult chaperones to accompany the secondary school students in Cuba.
Now that we have arrived to Cuba legally what makes it appealing? One of the first things that people say is that they want to see Cuba before it changes. The old American cars, the tobacco culture, the Communistic model that was set up after the revolution.
Cuba also offers unique public systems such as medical and educational programs that are all free. In Cuba the primary care doctor lives in the neighborhood that he or she services, where the doctor lives upstairs in a home with the clinic downstairs. This creates an effective grass roots primary medical system where the doctor is part of the community, and they know what is going on with health and wellbeing of all their patients in the neighborhood. It is a great way to practice preventative medicine.
The educational system from Cuba is also free. If someone has the affinity to practice medicine, law, teaching, education is free the entire time. The education is good and the system is efficient. Many American educators study the Cuban model to find out how to spend resources more efficiently.
The people of Cuba are what bring me back time after time again. I have been there over 50 times and it never gets old. The people are joyous and innovative in Cuba. They move to the wonderful music in a natural rhythm. The old American cars are not the only nostalgia of Cuba. Skinny children play stick ball in the streets barefooted, with a boom box blaring in the background. People talk and they move, they are not glued to iPhones and iPods. The Cubans are alive and they move to their cultural beat as if dancing.
It is easy to tap into the public enclaves and have wonderful cultural experiences with your students and the Cuban nationals. They are friendly and kind, and Cuba is a very safe country to travel to.
There is nothing like a good Cuban cigar with a mojito, of course we do that when the students are long fast asleep. Cuba has wonderful music, beautiful beaches and simply a different pace of life. The people are well educated and it is a very safe country. Try it you will like it. If you have questions about organizing a trip to Cuba contact Paul Bardwil at 916-225-8207 or pbardwil@aol.com.
Study Abroad to Cuba | What does Cuba have in store for us?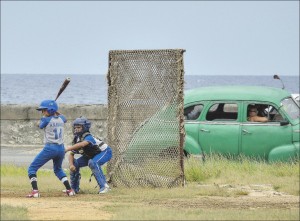 0